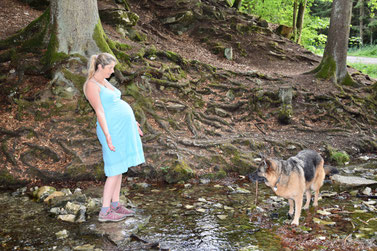 Welcome to backpacking moms!
We are so glad you found us and we hope we will fuel your motivation to get out with your kids!
The idea of backpacking moms came to me during my pregnancy.
I was sick for almost the entire time, but the last months in particular were the toughest as my blood pressure dropped and I was barely able to walk around. I was depressed and frustrated, I could see wonderful amazing days out of my window but I was not able to get out and enjoy them. Sometimes I would force myself on never-ending short walks with my dog, Zoe, which would often sit few meters ahead of me, waiting for me to cover the distance between us. I struggled as if I were in thin air about to reach the peak of a mountain, one step slowly and rhythmically followed the other, while half of my brain would repeat the mantra "keep on walking", and the over half would cry out in frustration.  
I was afraid to let my body go, I wanted to be strong for the day my baby would have come, I wanted so much for him to have a great birth, as I felt I already failed in soaking him in happy thoughts during the pregnancy. 
So I decided to focus on the future. 
Laying on the coach, I would close my eyes and start visualizing green mountain with crisp fresh air, narrow paths along valleys leading to snowy peaks. And I was there with my little one and my Zoe.
Then I started being more concrete, I actually started to decide on which hike I wanted to go. And being a first time mom and feeling quiet clueless, I started googling what kind of gear and what precocious should I have with my newborn. 
You may have heard about pregnancy giving you baby brain… well, for me it was quite the normality, and to avoid searching for the same topic over and over again, I started writing down everything I felt was important.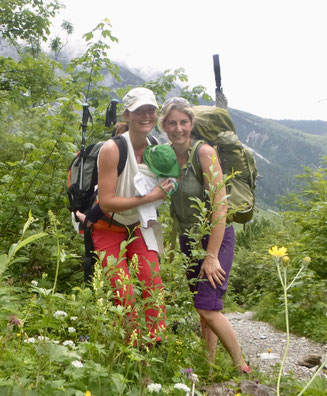 A year ago, I met with my friend Stephanie somewhere in the mountains close to Salzburg to go for a 2 day excursion. She had a baby few months before and she was eager to get out. The morning we met it was cloudy and a storm was foreseen for the late afternoon. Looking at the tiny 5-months old Johann, I told Stephanie that if she wasn´t feeling like taking the risk, we could have just found a place to spend the night in the town. "But I want to go!!" was the immediate firm yet pleading response from Stephanie. So we bought an umbrella, and we run to the trail head… and had an amazing regenerating weekend in the mountains. 
Stephanie´s determination about going hiking with her baby remained impressed in my memories, but now pregnant, laying tired on the coach, I could so totally relate to her! I reached the phone and I called her…
At the same time I was educating myself on how to deal in the mountains with my newborn, Stephanie was facing new challenges in taking an always heavier and more opinioned son out hiking.
Within 5 minutes on our phone call, the desire of sharing our experience with other moms came out as the most natural thing in the world: we will create  an user-friendly platform where anyone could share the experiences, struggles and solutions for transmitting the love for the mountains to the latest member of the family.  
BackpackingMoms accompanied me during the final months of my pregnancy, reminding me that one day, in the future, I will still be able to get out there.
Today, it is motivating me to get back into shape (and loose those extra 20 kg gained during pregnancy!) and most importantly to leave the safety of my warm home, to enjoy once again the outdoors with my little one.
Stephanie and I want to write about it, and we would love for you also find that motivation, grow a new generation of nature lovers, and join our community to create a positive supportive group!!
PS: you may be wondering… where are the dads?
Dads are of course always welcome!!! But we understand that some of them may not like hiking the way we do (when I talked with my partner about this website, he suggested the name "backpackingingmoms-climbingdads"… ;-))
Hiking with a child brings a series of new challenges that are sometimes very hard to overcome alone, for instance the extra weight. We believe there are other solutions to get out, rather than having to rely on daddy´s strong shoulders (it could also be the other way around!).  
Our motto is to be true to ourselves, caring for our child, and fair to our partner. 
For us, having a child is not a matter of "sacrifice", rather of "adaptation".