Hike & Kiss                         (transition to Carry-me-away),                             3 days summer hike, nights in a shelter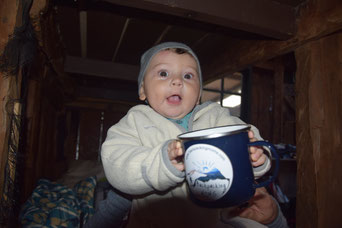 The following list was prepared for the Moerangi track, a 35 km track in the North Island of New Zealand with 2 night in basic huts. I carried all the clothes for the baby and for myself, while my husband carried the sleeping bags, the food/water and his own changes.
We walked it in February 2019, therefore during the southern hemisphere summer.
The closest town, Ruatahuna ( 532 m a.s.l) had the following weather predictions for the  days of the hike:
Day 1: Minimum temperature 10°C; Maximum temperature 27°C. Sunny
Day 2: Minimum temperature 12°C; Maximum temperature 26°C. Sunny
Day 3: Minimum temperature 16°C; Maximum temp. 21°C. Cloudy with 20% chances of rain (in the morning)
The huts we were planned to spend the night were located at:
Night 1: 600 m a.s.l.
Night 2: 630 m a.s.l.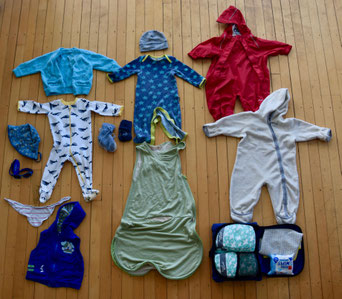 Baby clothes:
3 overalls in cotton
1 wollen pullover
1 cotton vest
1 bandana (for the drooling)
1 sun hat
sunglasses
1 pair of wollen socks
1 pair of normal socks
1 wollen overall
1 warm hat
1 sleeping bag (wool)
1 warm fleece overall
1 rain-proof overall
nappy change kit (nappies, wet wipes and mini blanket)
Raffa was wearing 1 cotton overall, the bandana and the sun hat when we started the hike.
The cotton overalls with feet incorporated were the best buy ever! Perfect to protect the baby against mosquitos and sun -I added mosquito repellant & sunscreen on the cotton, to be safer. I got 3 changes in case of nappy explosion (it happened!) and in case one got wet (it also happened, wet feet).
We used everything we brought with the exception of the socks and the swollen overall. It was pretty cold at night and I preferred Raffa to sleep with the fleece overall.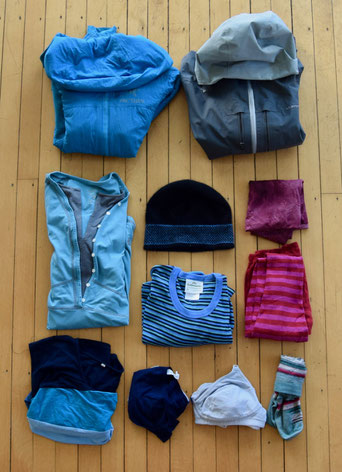 Mummy clothes:
1 t-shirt change
1 warm vest (good for breastfeeding)
1 warm jacket
1 jacket rainproof shell
1 wollen hat
1 skirt
1 wollen long johns for the night
1 wollen sweeter for the night
2 pairs of underwear
1 breast-feeding bra
1 pair of socks
For the start of the hike, I was wearing (not in the picture): 
1 pair of long trouser (with zip at tight level to make them shorter)
hiking socks
hiking shoes
swim suit bra 
tan top
long sleeve shirt
sunhat
sunglasses
I found the swim suit bra extremely comfortable, as it dries fast and has a good holding.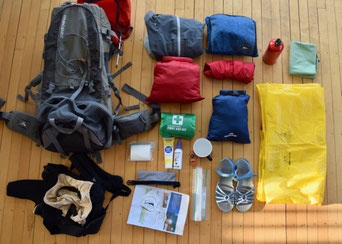 I also packed:
1 aid kit (with special additions for baby and my own medicines)
1 travel towel
1 big dry bag
2 pair of comfy shoes for the huts
mosquito repellant
sunscreen
toilette paper
emergency whistle
 3 empty zip lock bags
map and description of hike
front baby carrier
toys hanging on the backpack
1 water bottle
1 metal travel mug
All of Raffa´s cloths fit into the blue dry bag, while mine were in the red dry bag. I left our rainproof jackets outside to be able to reach them quickly in case of rain.
Also the diapers kit bag was left outside.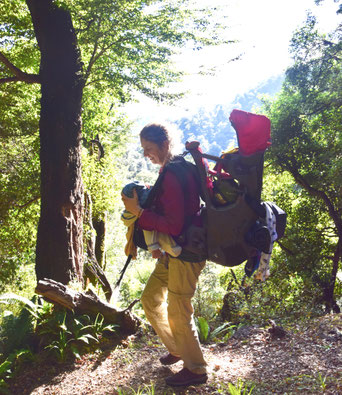 Because it was a long hike, we figured Raffa would get bored being transported always in the same way. So we used a combination of front carrier (for feeding and naps) and back carrier (for playing time). Daddy also bough his "porno belt" see below, to have him standing and kicking once in a while.
With this diversion, in a 3 days hike, he did not cry once, and smiled the all time!! I would call it a success! ;-)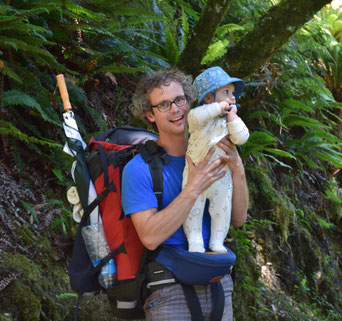 This is daddy with his "porno belt". It is bulky, but extremely light weight, so it is worth taking. It can be strapped easily outside the backpack. Raffa loves standing on it and looking around, or sitting and kicking. It is uncomfortable because you have to hold the baby, but for Jeremy it was his own baby time, so very important too.
Jeremy carried (most of the weight!):
food for 3 days
1 pot and gas cooker
5 laters of water
2 sleeping bags 
1 single bed sheet
his own change
2 big umbrellas
the porno belt
beacon 
Check list for a 3 days summer hike, with overnight in shelters
Hike&Kiss_3days_Shelter.pdf
Adobe Acrobat Document
363.9 KB