Moerangi track
Time (with baby)

Day 1: 5 hours

Day 2: 5 hours

Day 3: 7.5 hours

Elevation gain
 
Length

Day 1: 13 km

Day 2: 9 km

Day 3: 13 km

Elevation loss
 
Highest point a.s.l.
 955
Public transport

Organize a pick-up/

drop-off 

Sleeping

Night 1: Rogers hut

Night 2: Moerangi hut

 Food

Bring your own

Period

NZ summer

 Bedding
Bring your own 
The Moerangi track is located within the Whirinaki Te Pua-a-Tane Conservation Park,  a 56,000 ha area co-managed between the Department of Conservation and the Maori tribe Ngati Whare. It hosts numerous native birds, including kiwis (good chances of seeing them close to the huts), and the whio/blue duck (see the 10 dollar note), and an old growth forest (trees up to 1000 years old!).
The hike evolves along rivers, creeks, often it is excavated on steep sides on the mountains, It doesn't have many open endless views but you breath freedom and nature at every step.
Don't let the intensive clear-cut harvesting that precedes the park discourage you, apparently there is a plan to restore the native forest, and enjoy the many hikes the park has to offer.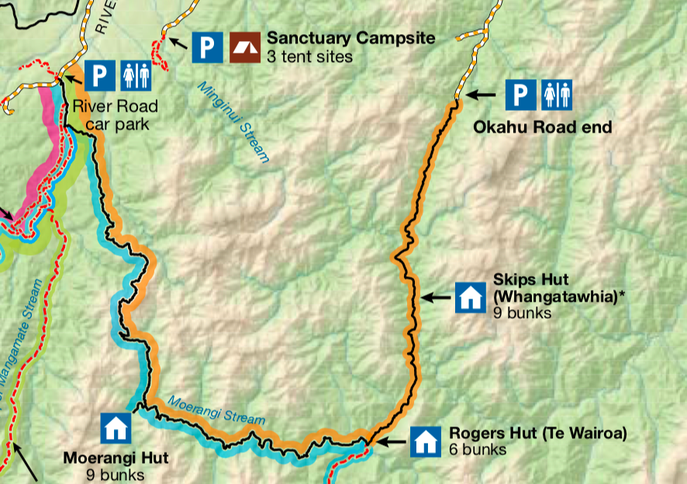 Note: Moerangi track highlighted in orange. Extract from the DoC leaflet.
We started east on the Okahu road end (dirt road! Jeep or high clearance car recommended!) and we finished on the River road car park.

Note: The image above is an extract from the DoC leaflet. The timing refers to a normal hiking adult. Hiking with our 7 months old added a lot of extra time, for changing, stretching, playing, pictures. Most of the feeding was done while walking, as well as all the naps.
Day 1: Okahu Road end to Rogers Hut (Te Wairoa)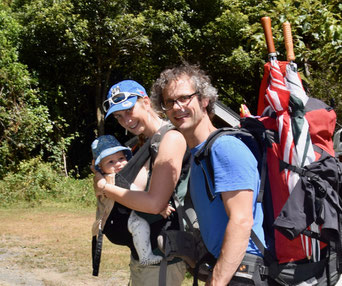 The 3:30 (official) hiking hours needed to reach the first hut made me feel comfortable with the idea of starting hiking later in the afternoon, and gave us a full "relaxing" morning to reach the start of the hike.
We left Opotiki (our base for this week) just in time for Rascal's first nap (did I ever mention he is a car-screamer?) around 9 a. m., and we reached ..... around lunch time.
Here we met with...... who came with us at the start of the hike (dirt road, high clearance recommended!), and drove our car back to the safety of his place, after setting a time/place where he would pick us up in 3 days (cost of the service 100 dollars).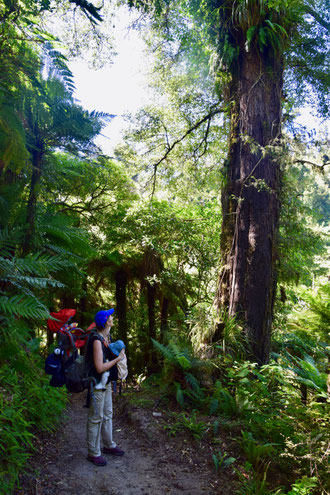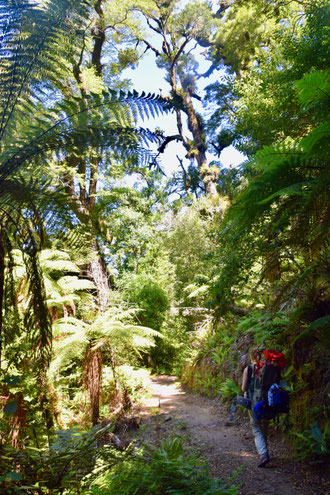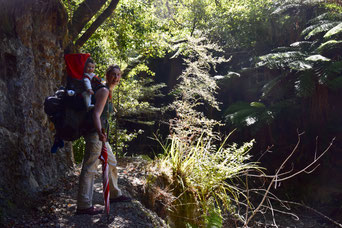 The hike is an on mountain-bike shared track, but in 3 days hiking we only met 2 hunters. The track is quiet wide (around a meter) and well maintained, surrounded by a luxurious vegetation. 
The hike is sometimes in the shade, sometimes in the sun, so sun hat and sun screen are needed. It is very easy, sometimes along a pretty river with very cold waters, and in my opinion it is safely walkable even by kids in good weather conditions.
Rascal started the hike in the front carrier, as it was closed to feed-nap time again, and we moved him to the backpack after about 1.5 hours. I am ridiculously slow if I have to walk (especially uphill) while feeding Rascal.
We reached Skips hut, our hike middle point  after 3 hours hike (double the declared time)!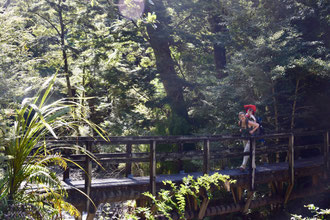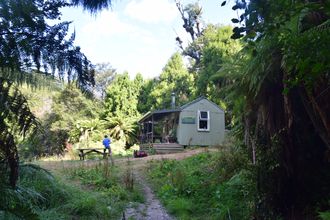 We met there 2 hunters that were looking for deer. Deer are a pest here that ruins the original environment and hunters remove these pests from the conservation area. They make a fugitive comment about mosquitoes in Rogers hut which we don't really consider too much, and soon enough we depart again.
The path is now narrower and there is a steep hill to pass. We stop for a rest on a idyllic beach just after a bridge, to discover soon after that the hut is just another 50 meters away! We arrive just in time to make ourselves comfortable, dip in the river and have dinner, that is already time for Rascal's bed time...
Rogers hut is one of the first hunters hut built in the park, and definitely it has its own character... and lots of mosquitoes! There is running water (rainwater from a tank) and even light fed by solar panels, but we dare not turning them on in the fear the light will attract even more mosquitoes...
Day 2: Rogers Hut (Te Wairoa) to Moerangi Hut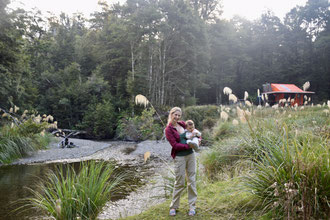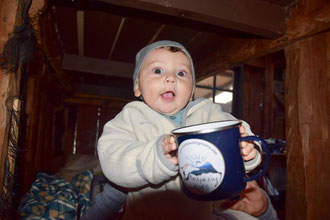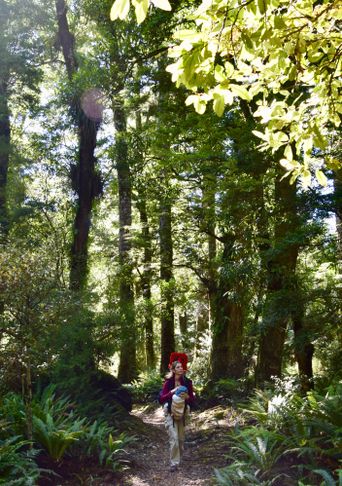 Rascal wakes up with a big smiles and safe from mosquitoes´ bites, and I have just enough time to have my breakfast and repack my backpack before it is already time for his morning nap (about one hour).
I start hiking and leave Jeremy behind to finish cleaning up. The path is so well signed that is really impossible to get lost. Sometimes it is although exposed on cliff (with the river below) and if I were to repeat it with a walking child, I would definitely make sure that he is safely tight up to an adult.
Few traps are present along the path, to catch rats and other pests. We are in kiwi zone! We also hear from Tuis and see wild pigeons. Other small curious birds await for us along the path, and the all hike is a full immersion in bright colours and a continuous concert. We are surrounded by ferns and big trees.
It takes us another 5 hours to reach the Moerangi hut, which is also located close to a cold and shallow stream. 
We have plenty of time today to boil the water and prepare the lunch for the next day, and we have an afternoon of relaxation (which is boring for Jeremy).
The hut is also very big, with a nice rainwater storage and many comforts. No mosquitoes tonight!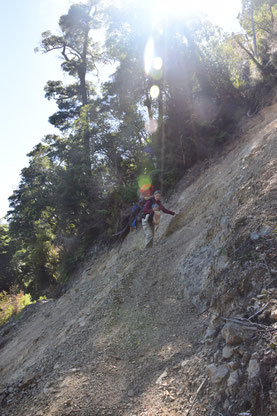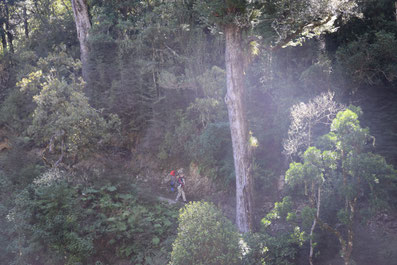 Photo: passing a landslide (left). I always let Jeremy go first to check the stability of it. Not a territory I would explore in wet/saturated conditions. In case of chances of rain during your hike, evaluate very well if the path will be in areas prone for landslides, and check with the local DoC office. Safety first!!!
Day 3: Moerangi Hut to River road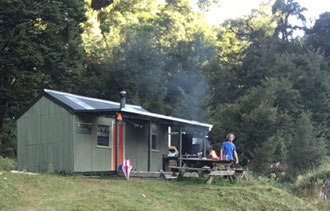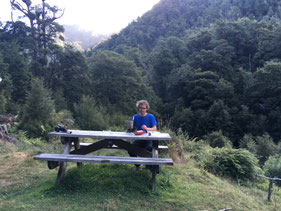 As for the morning before, I have just one hour to get ready before Rascal's next nap time. I leave Jeremy behind to boil some more water (we ended up spending time at the creek yesterday -COLD!) and slowly start walking singing a lullaby...
The hike starts with a steady but not so steep hike. There should be a very nice view at the top of the pass, but unfortunately is cloudy and we don't see much.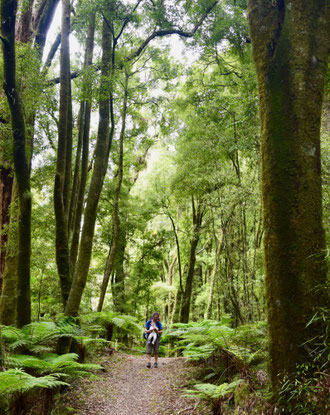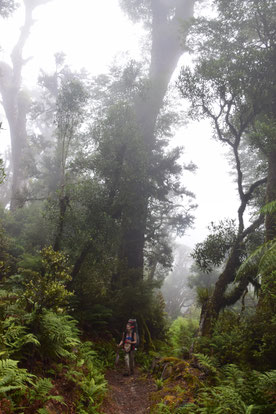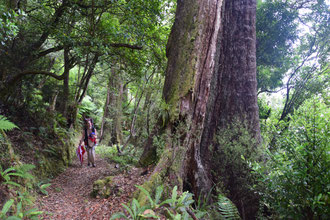 After the saddle (picture top right), the path continues on the side of the mountain (horizontal picture on the left). It is narrow and there are different landslides. If you are planning to hike with walking kids, I would bring a rope to tide them, unless they have a very secure step. This "uncomfortable" stretch is not too long, and soon the path becomes quite a wide road, surrounded by old growth forest and ferns (picture top left and bottom right).
If you do not want to do the whole hike, you can approach this are directly from the River road (which is a good conditions) and plan a day hike too. From River road there is also a day-hike to some waterfalls, apparently very pretty.
Because of these day-hike, the end of the path is very well kept and there are informational panels about the forest, and tags to help you recognising the trees.
We truly enjoyed the hike and the isolation of those 3 days, so I would definitely recommend it if you are comfortable not seeing other human beens for a while and you have a secure step to pass over landslides. Do not forget the mosquito repellant for a night in Rogers hut, or plan to spend the first night in Skips hut!