Carry-me-away, 2 days hike in autumn,  night in a Rifugio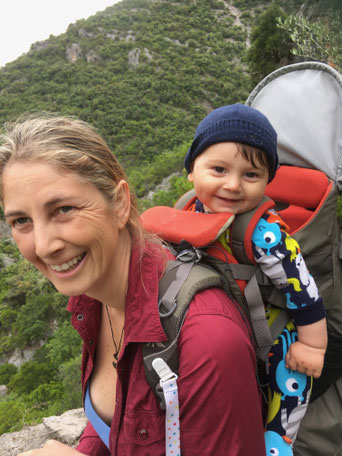 Do not forget to add plenty of water! ;-)
Enjoy!
Carrier rain cover
Pocket mirror 
Ropes to tie up objects (drinking bottle, books,...)
Sun protection if not integrated
Additional backpack (depending on the carrier model)
2 bodies
2 pairs of socks
1 long-sleeve shirt
1 waterproof pants
1 gilet/vest
1 sweater
1 pyjamas
1 raincoat
2 pair of shoes (sandals and closed shoes)
1 sun cap
1 sun hat
1 scarf
1 flannel
Sunglasses 
1 pair of mountain boots
1 pair of flip-flops, sleepers, or something similar
1 long underwear (wool)
1 long-sleeve thermal shirt (wool)
1 shirt
Sports underwear
1 gilet/vest
1 sweater
1 jacket
1 rainproof shell for jacket
1 pyjama
1 hat
Gloves
Wide warm scarf
Sunglasses
2 Pairs of socks 
10 diapers (5 per day) 
Calendula oil
Cotton pads
Sun cream
Toothbrush and toothpaste
Soap
Wet wipes
Toilet paper
First Aid / Emergency box
Medicine to treat fever
Nose drops
Ointment
Gel for smaller burns
Tweezers for ticks
Disinfectant spray
Mosquito and tick spray
Thermometer
Homeopathic globules (e.g. arnica globules)
Lactobacilli
Cough syrup
Trekking poles
Drinking bottle
Garbage plastic bag
Snacks box
Toys & Books 
Umbrella
Cell phone + charger
Maps
Pen
Headlight
Knife
Sheets of paper
Carry-me-away, 2days hike, night in a rifugio
A Downloadable check list of item to take with you for a autumn 2 days hike in a served rifugio... Enjoy!!!
Carry me away_Form.pdf
Adobe Acrobat Document
414.4 KB