8 Best Practices for a day hike with an infant in the Carnic Alps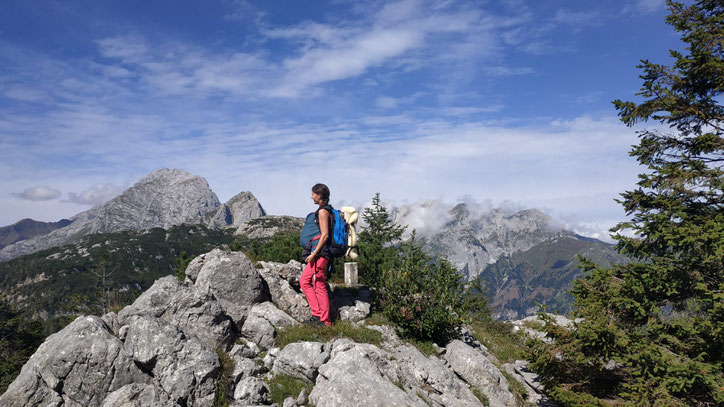 Many of my friends and family are surprised to hear about my hiking stories with my two small sons. This is my way to have authentic experiences with them in "slow motion" in our crazy, fast paced society. I can assure you this is a fantastic way to spend time in harmony with your kids and to strengthen your bond with them. It's not a matter of performance. 
Hiking is good for body and soul as long as you and your little ones are safe and comfortable. Good planning and preparation are the keys for successful hiking stories. It's quite difficult to find useful information about hiking in the Alps with kids. so we decided to share our experiences through BackpackingMoms. You want to "Get Ready"? Just follow these little tips I discovered along my 2-years hiking experiences with infants and say hello to your greatest outdoor moments!
You can also find more details on our website HERE.
This recommendation refers to a day hike at the end of summer with an infant. 
Before starting any hike it will be easier to make all the preparations at your car: change the diapers of your child, double check your backpack and its contents. It´s not easy to manage all this and the baby with only two hands! You can make it easier and comfortable for your kid by using a changing bag. It is compact, safe and clean to lie down your baby while you are preparing everything and before putting the baby in the sling.
While hiking with an infant carried in front of you using a sling you may find it easier if you use hiking poles as they will help you to keep a better balance while ascending or descending mountains.
Speaking about useful gear, the hands and feet are some of the first body parts to feel the cold. That's why a bonnet and baby booties are part of the standard equipment for each excursion - in any season.
It's quite important to have sufficient gear for the breaks as well, with an infant you may have to change him and laying him directly on the ground will often be impractical. That's why it may be useful to pack a blanket, mattress or even a sheepskin with you for those times. The sheepskin has the advantages of its warmth and insulation as well as its rather authentic looks! During the breaks you can also try to dry any clothes that got wet during the hike with the help of wind or sun.
It's usually easier to walk with your infant while he sleeps or just after he was fed, so it can be better to plan the start of your hike accordingly. To cover as much ground as possible, it's also better to take a break when the baby needs it rather than on a fixed schedule.
You may need to take some extra clothes for the baby with you in case of bad weather or just in case of excessive sweating or even in case of diaper leaks. So we would recommend you to take an extra set of baby clothes and two extra wrap bodysuits.
Do all you could to prevent diaper leaks. Be sure to do a fresh diaper change before you leave the car and on the way change them at every break you take.  Having a diaper that is bigger than to small can actually prevents diaper leaks. 
Welcome any help! Hiking isn't always easy and some paths can be more treacherous, so take any help from your other hiking companions or people you meet along the way.
This are just a couple of general recommendations and you shouldn't take it as an exhaustive list.
BackpackingMoms.