A single mom & the outdoor
I haven't always enjoyed the outdoors. It wasn't until the last year I lived in Utah (one of the coolest places to live if you like the outdoors) that I began to take interest. That interest really ignited when I jumped into a relationship shortly after moving back home to California. The man I was dating had a decent knowledge of rock climbing, camping, hiking, etc. and had so much confidence in doing so. We went on so many adventures and luckily that love for the outdoors that grew during that time has remained a part of me ever since!
Now I am a single mom to a 2-year-old boy. I was honestly terrified to take him out in the beginning. I've never felt that motherhood came naturally to me, so the idea of taking him outdoors was incredibly daunting. However, I knew that getting outside and being in nature was imperative to good mental health. Before having a baby, I struggled for years with anxiety and depression, but the thing that helped me manage it the best was going out on adventures. I could not give that up. 
So, I got up the courage and took my boy on one of my favorite easy hikes when he was about 8 months old. Most of the hike went well! We ran into a few minor problems here and there, but that was actually perfect because it ended up being what I needed to build my confidence and learn that I could do this! We have since gone on many hikes. As he gets older, hiking presents different challenges, but we both thoroughly enjoy spending this time together.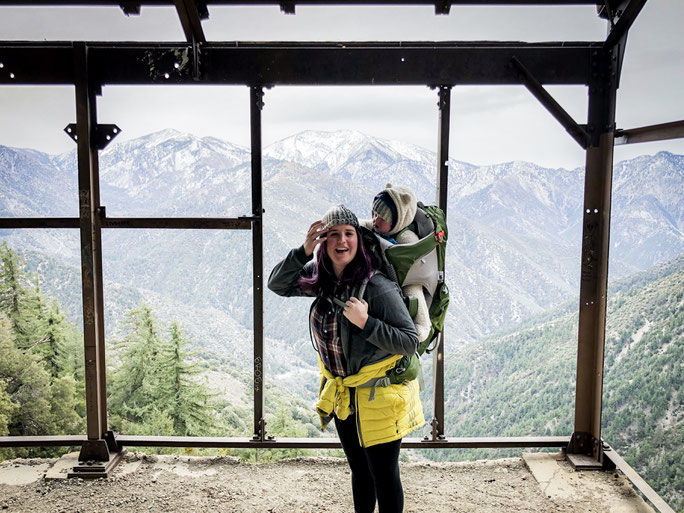 I can't sit here and pretend that doing this has solved all of my mental health problems, but I can't imagine where I would be if I didn't have this outlet. Motherhood comes with all sorts of challenges, and although we all know the challenges are worth it, we still need to do what we can to take care of ourselves. That saying that "you can't pour from an empty cup" is just so true. Taking my son outdoors and sharing these experiences with him really does fill up my cup and allows me to be a better mom to him. 
If you're sitting there wanting to do these types of activities with your kids, but don't know where to start…
Here's my main piece of advice:
start small.
Find a local, easy trail and
just go.
All you really need to hike is some snacks, water, and diapers if that's applicable!  As you build up to harder hikes, you'll figure out what works best for you and your kids. Yes, it will be hard at first and you will make mistakes, but it will so be worth it in the end! 
You can follow Melissa on her blog at: www.melissacomposed.com