Scroll down for the English Version
Escursioni con il bebe´.
Una mamma italiana e la sua missione
Uscire all'aria aperta con il mio bebè fin dai suoi primissimi giorni mi ha permesso di affrontare il post parto con tanto buon umore, energia e serenità.
La prima volta che ho portato mio figlio in fascia per una passeggiata aveva 6 giorni, dai suoi 4 mesi ho continuato con il marsupio ergonomico ed ora alterno marsupio allo zaino porta bebè.
Ricordo che durante la mia gravidanza, un periodo bellissimo per me, non facevo altro che immaginarmi sui sentieri con questa piccola creatura a tenermi compagnia. 
Fantasticavo sul momento in cui gli avrei mostrato i primi alberi, avrebbe toccato per la prima volta una foglia o un fiorellino, iniziato a correre o saltare nel fango. Nelle passeggiate in natura io e mio figlio abbiamo trovato il nostro rifugio magico, soli io e lui respirando l'energia vitale della montagna.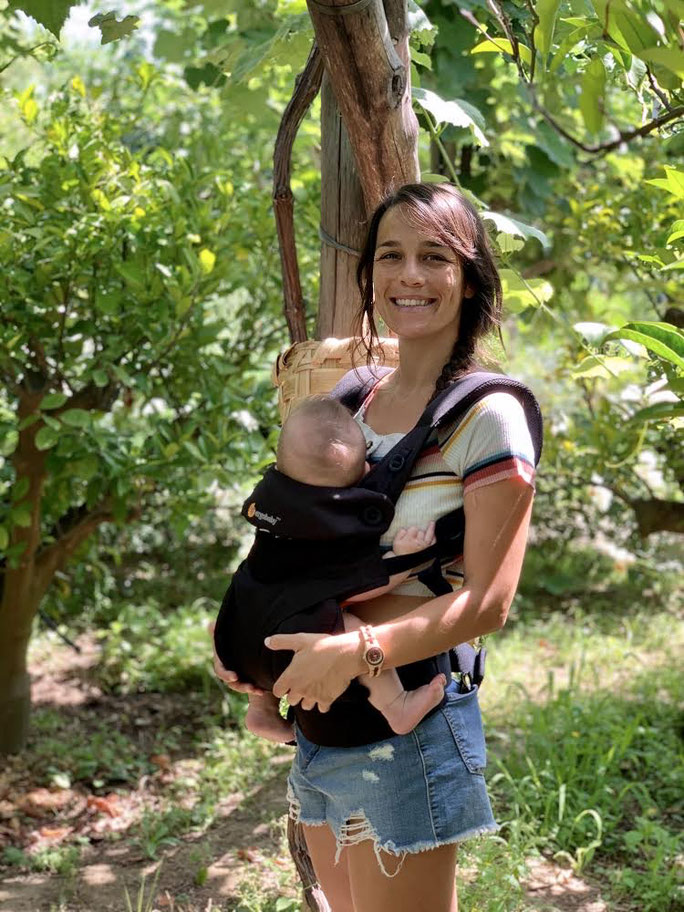 In tanti paesi del Nord e non solo portare il proprio bambino con sé durante un'escursione  fa parte della normalità, è un evento quasi settimanale condiviso con famiglia ed amici.
Qui in Italia del Sud lo è molto meno. Anzi vi dirò di più, è  veramente raro trovare adulti sui sentieri che portano i propri bebè in uno dei tanti supporti in commercio.
Le persone quando vedono abbigliamento outdoor unito a fasce, marsupi o zaini porta bebè immediatamente pensano agli stranieri in vacanza. 
Non abbiamo la cultura del portare e soprattutto portare in natura. 
C'è tanta disinformazione basata su tante dicerie, una vecchia mentalità, leggende metropolitane.
Tutto questo è un peccato!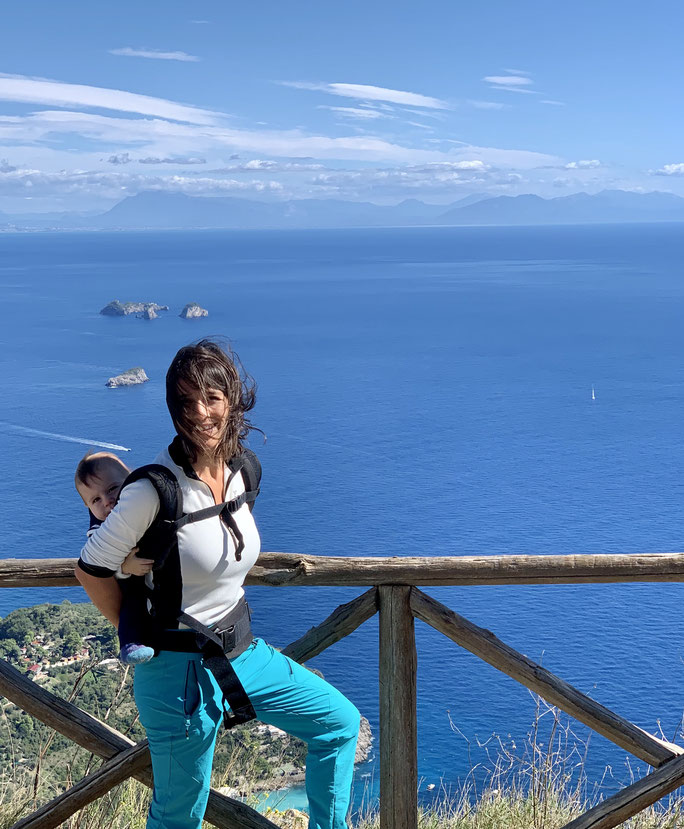 Sono Veronica Verde, Guida Ambientale Escursionistica e mamma di Massimiliano da 1 anno.
Da sempre amante della natura e degli sport outdoor, dopo diversi anni in giro per l'europa e non solo ho deciso di tornare nella mia terra natale e coltivare la mia passione ( che è anche il mio lavoro): il trekking tra mare e monti.
Vivo a Sorrento, perla della penisola sorrentina, a 4 passi dalla costiera amalfitana. 
Sono circondata da tanta bellezza, sentieri magnifici sospesi tra mare e montagna ed è proprio qui che nasce la mia missione.
Massimiliano è stato il mio fedele compagno di avventura in questo anno così particolare, 
dove il covid ci ha sicuramente limitati in tante cose ma ci ha dato la grande opportunità di passare molto tempo all'aria aperta.
Di ciò siamo estremamente grati.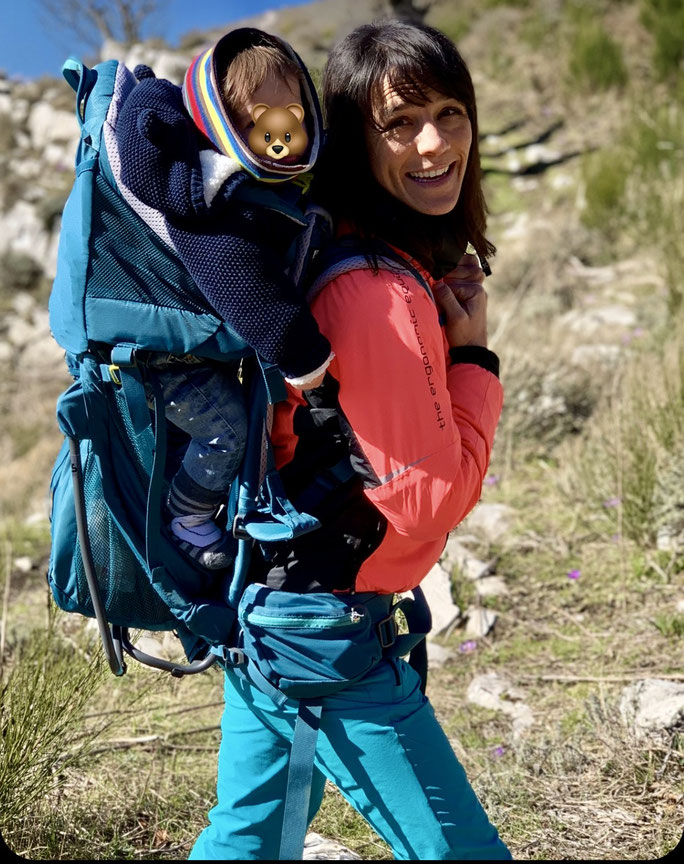 Mi piacerebbe tanto poter vedere sempre più mamme e papà in natura con i loro bambini, dare loro la possibilità di crescere attraverso esperienze sensoriali uniche e irripetibili.
Questo e uno dei tanti motivi che mi ha portato a condividere sempre di più sulle mie pagine social la mia esperienza personale e tanti contenuti riguardo questa tematica.
L'idea è di ispirare, incoraggiare mamme e papà a portare sempre più spesso i loro bambini in escursione, dar loro le giuste informazioni riguardo i supporti, i benefici, la sicurezza in montagna e tanto altro.
La natura è maestra di vita, ci insegna ad essere semplici, autentici, resilienti. 
Non perdiamo l'occasione di educare i nostri figli in natura fin dai primi mesi di vita.
Unisciti a Veronica per trovare l´ ispirazione per uscire in natura con il tuo bebe!


---
An Italian mom promoting hiking
Going outdoor with my baby from his very first days has allowed me to face the post-partum time with a lot of good humor, energy and serenity.
The first time I took my son in the sling for a walk he was 6 days old; from there I shifted to the soft structuredcarrier at 4 months, and now I alternate the soft structured carrier with the framed backpack.
I remember that during my pregnancy, a beautiful time for me, I did nothing but imagine myself on the trails with this little creature to keep me company.
I fantasized about the moment when I would show him the first trees, he would touch a leaf or a flower for the first time, start running or jumping in the mud.
My son and I found our magical refuge when hiking in nature, the two of us alone breathing the vital energy of the mountain.
In many countries taking your child on an excursion is considered normal, it is an almost weekly event shared with family and friends.
Here in Southern Italy it is quite different. It is rare to find adults on the trail with their babies; when people see outdoor clothing combined with baby wraps, baby carriers or backpacks, they immediately think of foreigners on vacation.
We do not have the culture of carrying the baby, nor of bringing her/him in nature.
There is a lot of disinformation based on so many rumors, an old mentality, urban legends. Such a pity!
My name is Veronica Verde, I am an Environmental Hiking Guide and for the past year I have been mother to Massimiliano. 
I always loved nature and outdoor sports; after several years abroad, I decided to return to my native land and cultivate my passion, which is also my job: trekking between the sea and the mountains.
I live in Sorrento, the pearl of the Sorrento´s peninsula, close to the Amalfi coast.
I am surrounded by so much beauty, magnificent trails suspended between the sea and the mountains and this is where my mission was born: help other Italian families to embrace the outdoors with their babies.
Massimiliano has been my faithful companion in this special year when, despite the covid-crisis that has limited us in many things, we had the great opportunity to spend a lot of time outdoors. We are extremely grateful for this.
I would love to see more and more mothers and fathers in nature with their children and help them to grow through unique and unrepeatable sensory experiences.
This is one of the many reasons that led me to share my personal experiences on my social pages, enriched with content about hiking with babies. 
My goal is to inspire and encourage mothers and fathers to take their children on hikes, by providing useful information about supports, benefits, safety in the mountains and much more.
Nature is a life teacher: it teaches us to be simple, authentic, resilient.
Hopefully nobody will miss the opportunity to introduce nature to babies even in the first months of life.