If you like mountains, you cannot go wrong in Austria... they are all over the 9 administrative regions of Austria. The Alps cover almost two thirds of the country's surface and they extend over the entire western part of the country. The highest mountain, Großglockner (3,798 m), is located on the border between the regions Carinthia and East Tyrol in the Hohe Tauern, one of the 6 National Parks in Austria. 
Austria's mountain world also stands out because of its extremely well-established "mountain-infrastructure". There is a great selection of mountain huts in which you can spend the night and there are many cable cars running even during summer to take you quickly and easily above the tree line. Remember to make sure your baby is ready for such a ride -> See our blog entry about taking cable cars with babies. Also the hiking paths are well indicated to prevent you from getting lost. Nevertheless, we always recommend thorough preparation. 
You are dreaming of experiencing the Austrian Mountain spirit with your kids? We want to support you with a number of useful platforms and information.
Hiking in Austria in general
Get inspired
Eating and drinking
Spend the night in the mountains
Check the weather forecast
Emergencies in the mountains
For the kids
---
 With a network of 40,000 km of trails and 500 mountain huts (Status 2020), the Austrian Alpine Association (Alpenverein Österreich (ÖAV)) is the main organisation that looks after the paths and the alpine huts in Austria. It consists of individual local sections which you should refer to when planning a hike. Also the organisation, Die Naturfreunde Österreich, can be a good partner for your mountain outdoor activities. They offer support for planning and look after 140 huts.
Both organisations offer information about hiking with children in general. We love the chapter "Motivation" or the folder Mit Kindern auf Hütten available on the ÖAV webpage Wandern mit Kinder. You can also get expert recommendations for hiking with children on the website Naturfreunde Wandern ist ein Kinderspiel.
 The well marked and maintained network of paths is mostly maintained by the Alpine Association and / or by the tourism associations. Even those of you who do not have extensive alpine experience can explore the mountain world, as long as you stay on the marked trails.
The yellow, arrow-shaped signposts with black lettering indicate the destination, the walking time, the route numbers, the route holder and, if necessary, provide useful additional information by means of pictograms (refreshment stops, via ferrata, vantage point, etc.) Moderately difficult mountain paths are additionally marked with a red dot and difficult mountain paths with a black one. In Tyrol easy hiking trails are not marked with such a symbol, but in the rest of Austria, they are marked with a blue dot  - except in the state of Vorarlberg. There, the Liechtenstein and Swiss model is used by marking easy hiking trails with the colour code yellow and white on grey way boards.
In between the arrow signposts all over Austria, the routes are generally marked using red-white-red ground marking usually painted on trees and/or rocks (possibly with a route number).
Time information on the signposts should under no circumstances be adopted on a one-to-one basis for hikes with babies or toddlers. You should make test hikes with your children beforehand to be able to estimate/assess your average speed depending on both the distance and elevation.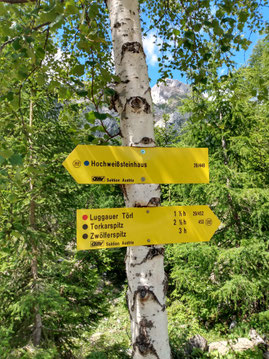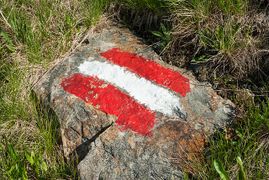 If you are looking for first impressions, you will find many suggestions on the Austrian official travel portal. A subsection about hiking with kids Wandern mit Kindern und Kegel is unfortunately only available in German. A few trails are well presented with descriptions and great pictures. Such descriptions with pictures will additionally help you to get an idea of what to expect.
How about leaving the digital world for a moment and taking a look at the magazine BERGWELTEN which offers you plenty of articles to read about hiking routes, special huts and inspiring mountain-stories. On their website, you can also find suggestions for hikes in Switzerland, Austria, Germany and Italy, with subcategories for individual regions within each country.
To plan a hike more thoroughly, we recommend an Austrian internet platform Bergfex.at. It is a very useful and invaluable platform for mountain tourism and alpine sports.
NEW - The Austrian Alpine Association provides a new web portal alpenvereinaktiv.com with first-hand information that will help you to plane the perfect hike. It offers an ever-growing abundance of tour descriptions - including maps, GPS coordinates, pictures, current conditions, weather forecasts and information on refreshment stops in the area. As a mountain enthusiast, you can also actively participate in contributing to the portal. It is also available as a free app for Android smartphones and iPhones. Both the information and the maps are thus easily accessible when you are on the move. The navigation system also works in offline mode.
In Carinthia, Austria's southernmost state, hikers are rewarded with wonderful nature, a mild climate and ideal trails at all altitudes. Experience Carinthia's variety of mountain shapes, alpine pastures, and its many mountain lakes: Thanks to its variety and well established infrastructure, Carinthia offers perfect hiking routes for the whole family. 
In order to turn a hike into an adventure for children, exciting stages and destinations are the key to keep our little ones motivated. Mountain lakes, waterfalls or even alpine pastures are all perfect playgrounds for children. 
And it is precisely in Carinthia where"Backpackingmoms" co-founder Stéphanie has made her home. The relaxed way of life of the locals convinced her to stay there for good! 
We suggest visiting the local interactive map Tourenportal Kärnten to get acquainted with the numerous options available. The website will even let you filter for family-friendly hikes, mountain bike trails and much more!!! 
Preparing your own snacks is often the cheapest and least problematic (special diet) solution for the hiking tour. But as parents of small children you will agree that preparing the food and carrying all the additional weight is not always that easy.
Take some snacks with you. Frequent breaks are important for children, It is important to rest whenever the children ask for it and give them opportunity to drink and eat. Food or a "special" drink (We love Coco water!) can also be a great motivation.
This is the most common and safest way to spend the night in the mountains. The Austrian Alpine Association alone operates 500 huts in the country. You can find the huts described below on an interactive map Österreichischer Alpenverein Hut finder. .Mountain enthusiasts planning overnight stays can also count on the Naturfreunde Österreich huts.
Which hut type is the right one? In Austria you can find huge number of different hut types: "Schutzhütten, Wanderhütten, Selbstversorgerhütten, Almhütten, Berghütten,...", but they do not necessarily offer the same services. You only need a place to sleep? Maybe you want to taste some alpine cheese? Or you would love a warm meal? Make sure you choose the right kind of a hut! 
Camping in the forest is prohibited by law throughout Austria, unless you have an explicit consent from the landowners. 
Even in protected areas like national parks, nature reserves and special protection areas you are not allowed to pitch a tent and spend a night in the forest. 
Above the tree line the regulations for camping in nature vary from state to state and from municipality to municipality. Acquiring an approval from the landowners is advisable in any case.
"Alpine bivouacking" is permitted across the board in case of emergency ("Notbiwak" due to injury, darkness, sudden bad weather). Please note : Intentional bivouacking counts as an overnight stay in a tent and is thus prohibited! 
Here you will find links to the general regulations of the individual federal states.
If you plane to spend 2 or more nights in a hut that is operated by the Alpenverein (most of them will be), you should think about becoming an Alpenverein member. Members pay less for an overnight stay. There is a reduction of at least € 10 for staying overnight in all huts and this also applies to both German and South Tyrol Alpine Association huts. In the 1,300 huts in Switzerland, France, Lichtenstein, Spain, Slovenia and Italy you receive a discount thanks to the reciprocal agreement, i.e. the same conditions apply to ÖAV members as the club members from the particular country.
If you plan hikes with overnight-stays with babies or toddlers, we strongly recommend you make a reservation. Make sure to contact the hut staff beforehand and let them know you are accompanied with children. Depending on availability, families are accommodated in smaller rooms or dormitories.
Zentralanstalt für Meteorologie und Geodynamik (ZAMG) is the Austrian official weather service and offers a broad range of services, from weather forecasts to climate and earthquake monitoring as well as the constant analysis and prediction of atmospheric pollutants.
ZAMG provides a wide range of forecasts and warnings to help you with informed decisions on planning your hikes.
If you have reception, CALL:
Germany: 112
Austria Alpine emergency "Alpinnotruf": 140
Swiss (REGA):  +41 333 333 333 (not Swiss phone) bzw. 14 14 (Swiss phone)
South Tyrol: 112 
If the mobile phone has no reception at the place of the accident, use the "emergency call function" on your phone's lock screen to place an emergency call using any available network.
Tyrol has a proper Mountain Rescue Tirol Emergency Smartphone App, the "SOS EU Alp"...
no need to say more -> if you planning to hike or backpack there, download it at the  Apple App Store or the Goggle Play Store.
The app also works in South Tirol/Alto Adige (Italy) and Bavaria (Germany)
Hüttenpass der Naturfreunde - The hut pass is intended to excite and inspire kids and invites families with children to discover the Naturfreunde huts throughout Austria. You can order it per mail or downloaded it.
Alpenverein Rucksackspiele - ÖAV "backpack games" include tasks such as climbing rocks, alternative routes as well as multiple challenges and adventures. With this selection of various games and activities, the way to the goal becomes "child's play". You can order it for free at jugend@alpenverein.at