So you had your baby (or you are about to) and you are motivated to go hiking. But what kind of gear is available???
Turns out there is a lot out there, but of course if you don't know for what to look for, it may be tricky...
Here you will find options available and our tips and tricks for a comfortable and safe experience outdoor with your baby. 
---
Hiking with a baby in the front has its many advantages and some disadvantages.
Advantages:
the baby is close to you and benefits from your own heat during hikes in colder areas,
she or he is always under control,
you can feed her without having to put her down (again, very comfy in colder climate)
your back is free to carry all the gear you need in a backpack
there is a good balance of weight with the backpack.
IT IS HEALTHY FOR both BABY and MOM       (Read about the science here)
Disadvantages:
you can't really look where you put your feet
uncomfortable in case of steps
may be uncomfortable with the double straps (from the sling and backpack) on your shoulders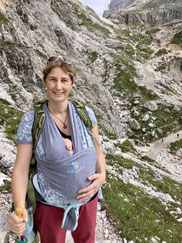 Best option for the first hikes. It keeps the baby warm and close to mama. Feet and arms are also covered, keeping the extremities warm as well. The material is soft and comfortable even on the shoulders, where the straps from the backpack go.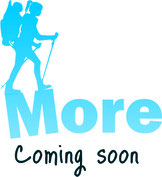 I don't have one but I wished I tried it earlier. It is shorter (therefore lighter) then the traditional sling, and mainly tides up with a ring. Not sure how it works with the backpack. It looked very comfy to carry the kid on the hip too.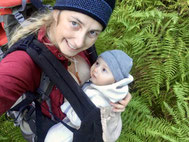 The baby is carried in the front, and he is tided to you at the waste level and behind your neck. It is maybe quicker to get the baby in and out, also in warm climate there is more airflow. There is a pocket in the front to store little things, and a flap to hold your baby's head while he sleeps. Super comfortable also for breastfeeding on the go.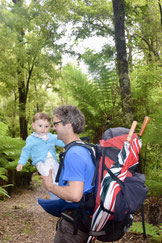 Indispensable. Our favorite. Is straps on your waist, and help you carried the baby in the front, or on the hip. Our baby loved it and it has always been a great break from the front carrier or backpack on long distance hike. I saw on the internet a similar option with more straps with looked more comfortable for short hikes. For long distance hike we loved this simple version because it is not bulky, light, and easy to strap on the back of the backpack. Also a great support to breastfeed while walking.
Your baby has grown an it is now able to sit in a back carrier...
Babies can use this option ONLY if they can already sit on their own, and can keep the head up. Don't rush into this option, make sure your baby is really ready!
Advantages:
No more weight on the front, walking is easier
You can see where you put your feet
The baby can look more around, it may be more interesting.
Disadvantages:
Heavy load with little storage space!
No heat sharing, you child must keep warm by his own 
You can't directly keep the child in vision (use a back mirror!)
Cannot breastfeed while walking.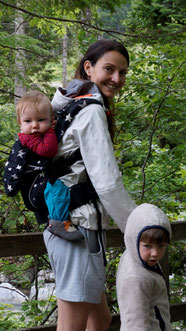 The same front carrier, but with the baby carried on your back rather than the front. 
Comfy for short trips where you do not need a backpack or somebody can carry it for you! ;-)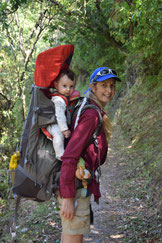 The classic. Comfortable on your back, great for long distance hike.
Essential to look for are:
a resting pillow so that your baby can sleep comfortably;
a sunshade (the bigger the better! this one in the picture was too small for my taste);
a rain cover (that cover both baby and backpack!);
side pockets easy to access (for snacks, toys, water for baby....);
good capacity;
the stand-up alone possibility (easy to set);
stirrups for older kids.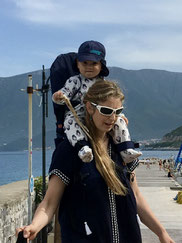 A fun way to carry your baby on short walk, while I found it tiring on long distance. The BEST if you have to go anywhere crowds, like shopping, market,  mensa. Having the baby in the backpack or in the front carrier makes you very big and it is unconformable to move around in crowed places, while with this shoulder carrier, the baby is safely above you, away from strangers, he enjoys a nice view of the world but cannot reach things.   Minimeis is the creator is this carrier, check out their website!
---
What should you pack when going hiking with your little one?
Find our gear list depending from the season, the length of your hike, and your overnight options.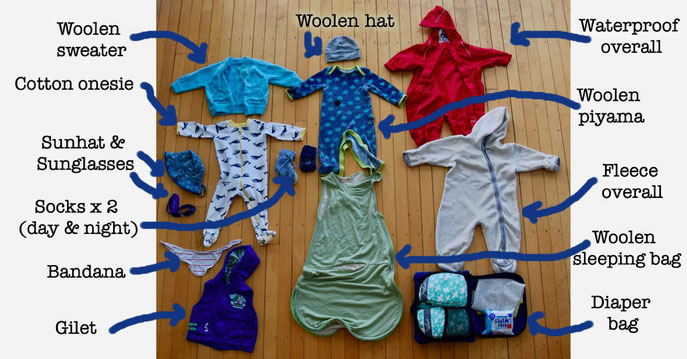 Here an example of what I pack for 2-3 days outdoor:
During the day:
A full body cotton onesie (with a zip) to protect him from bugs. He is wearing one, and 1 extra is packed in case of need (pooh explosion, gets wet...). Beware! Cotton is not UV protective and not suitable for humid/wet conditions, as when wet will take the heat away from your baby. 
In spring, you can add a wool body underneath a wool onesie to keep the baby warmer
The bandana around is neck if the baby is teething (and drooling a lot... so you can keep him drier)
A vest if it is a bit colder, usually in the morning and in the evening
Grandma wool sweater for colder days
Sunhat & sunglasses, if it is colder, I use the wool hat
In case of rain, I put the waterproof overall on top of everything. Beware! Rain covers have different degrees of waterproofing and breathability. Always make sure your baby is not sweating.
At night:
The wool  pyjama, with a wool body underneath if colder
Warm (wool) socks
Wool hat
Fleece overall if cold or wool sleeping bag
Extra:
Enough diapers for the whole trip! (I count 3/day + 2 just in case...)
wet wipes
All the "small items to improve your experience" listed below ;-)
| | | | |
| --- | --- | --- | --- |
|   |     Day hike                 | 2-3 days - Night in Rifugio* | 2-3 day -Nights in Shelter** |
| Spring |   |   |   |
| Summer |   |   | More here |
| Autumn |   | More here |   |
|  Winter |   |   |   |
The items we carry vary depending on the length of the hike and the season. 
Use the table below to find the list the best fits with the hike you planned.
You will notice that some seasons and hikes do not have any link, This is because we only create the list after trying it ourselves...  
*By "Rifugio" we mean a served hut with restaurant, blankets and heating in the rooms (which can be either shared bunk beds or smaller rooms).
**By "Shelter" we mean basic huts, usually with no electricity or running water, often with a fireplace for heating, sometimes they have mattresses.
Carry me away_What_to_pack
A check list of useful things to pack when going backpacking with an infant (2-3 days hike, Autumn and Winter seasons, night in hut). Do not forget to add food & water to the list!!!
Carry me away_Form.pdf
Adobe Acrobat Document
414.4 KB
---
What if you baby fall asleep? What are the items you cannot do without? Or how to keep you baby in the backpack happier and longer? Here some tips...
We recommend a camel back, then you always have easy access to the water and you can also share it with your baby.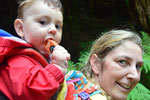 For emergency but also for the baby to play with. I hang it on the strap behind my neck, so we can both easily reach it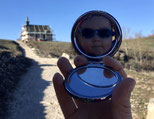 If your baby is sitting on the backpack, you can easily check on him/her using a small mirror!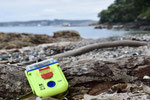 In these days, you can use the cell phone for everything! Photos, find location... but the most important use is if you need to call for help. Keep it at reach so that you can get at it even if you cannot move much. Same for the personal locator. It won't help you if you cannot reach it in case of emergency.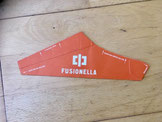 Ok, it may sound strange, but imagine... your baby just felt asleep in your front carrier or in the backpack. You really have to pee (how long can you hold it after giving birth?!?!?!!!!) but putting your baby down will surely wake him/her up.... what do you do??? Well, do it like a man....
Here a link to an article with of the different options...
A collection of small items that make the whole hiking experience nicer!!
Also check Stephany´s blog on "8 best practises for a day hike with an infant"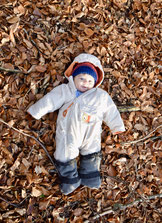 Great for infant that are still not wearing shoes. It keeps feet warm when in the carrier. I prefer long booties that cover the knee and some tight as well. I bought these in the picture from Mama motion and I was totally happy with them.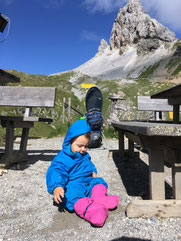 Some concept as the soft booties, but impermeable! Must have for any hike, it keeps feet dry during rain. 
I found these in a second hand store, no idea where you can buy them...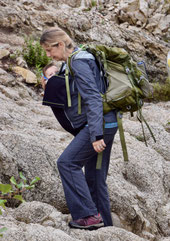 Same jacket extension by Mama Motion I used to cover my pregnant belly, perfect to protect my baby while in the front carrier. It has an extra waterproof cover I can add on rainy days.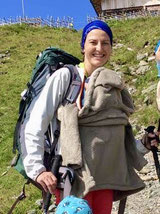 Don't need to spend money, one of your sweater tided up on your backpack straps will do. Just always make sure you have enough for the baby and yourself in case of colder weather.
There are also many options in the market for specific baby covers.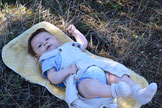 Especially with an infant, the sheep skin was so handy, in summer as in winter, to lay the baby down and let him rest, move freely or do a diaper change.
The sheep skin is a great natural insulator.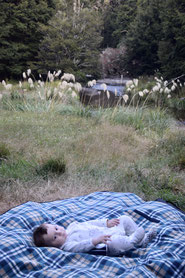 Pic-nic style with insolation on the bottom.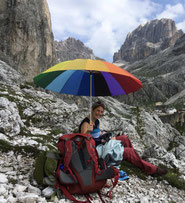 Unusual sight in the mountains, but totally worth it. Provides shade for any moment of the day, extra shelter from the rain, protection from the wind, it also works as a walking stick... Remember your new-born has a very sensitive skin and needs to be extra protected. Sunscreen is not recommended for babies younger than 6 months old and the sun on the mountain tops is strong. It doesn't look silly to me, it looks like a mother's love extra tool! ;-)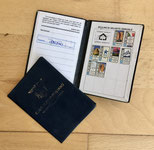 Find your local alpine association and join them! The membership usually entitles you to discounts in the alpine huts and also provides you with insurance during your hike. Term and conditions may varies, but it is always worth to have a look and join the local hiking community.
(Every year you get a stamp that shows you paid the yearly membership)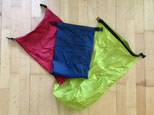 All sizes, all colours, impermeable and not. I keep items divided into bags inside the backpack. One for a baby change of cloths, one for the diaper change kit, a full change for me, things for the night and things in case of rain...
Having everything separated in bags helps me finding rapidly what I need without having to disrupt the order of the backpack every time...
Infinite use. To cover the baby while sleeping (so that arms and legs are also protected from sun), as a sheet cover for the bed in the hut, as pillow, as toy.... it really doesn't weight much so it is worth it. You can make little holes on the borders to thread a line through for more uses...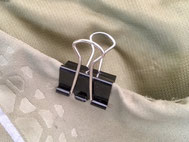 Infinte uses as well. Keep the big muslin where you want it, clip a toy close to your baby sit, hang that that wet body on the back of your backpack, fix that strap, close that bag, make a new toy... also do not weight much and possibilities are infinite...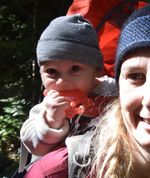 If there is any change your baby is teething, have something for him/her to bite. Not only it will make him/her happy, it will also entertain him/her for a while you walk or enjoy the views!
---
The german backpack company Deuer created a series of very nice videos in English on how to pack (how to distribute the weight for example) and what bring. Check their website here.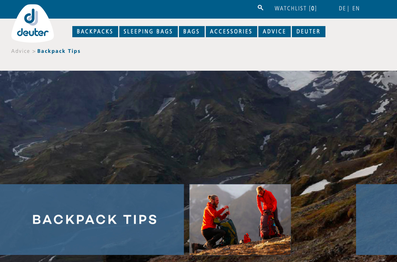 ---
Please do the following:
1. Check the weather predictions from the closer town/city (I found www.wetter.com pretty accurate)
2. Note the altitude above sea level of this town/city
3. Note the altitude of the rifugios/shelters where you plan to spend the night
4. Plan your gear accordingly! Ask yourself:
What will the day/night temperatures be like?
What are the expected minimum & maximum temperatures?
Is it going to be windy? Will I be protected or exposed?
What are the chances of rain, snow?
Will I be in the shade or full sun?
---
We used a combination of swing or front carrier + backpack + hip carrier. We always carry all these with us so that our baby could change position constantly.
I think this helped for him not to be bored or have sore muscle (can you imagine sitting all day!!!). We also gave him the opportunity to choose what he wanted, and I think that also helped his good mood. He loved sleeping in the front carrier (Position 1) and be carried on the backpack (Position 2) or hip carrier (Position 3) while awake.
While the sling/front carrier are both heavy and bulky (not really, but when you are trying to pack as light as possible, you can surely feel the difference), the hip carrier is very light and it straps easily on the back of the backpack.  
Note: every kid is different and likes different things... you will have to work with him/her to find what he/she like the best.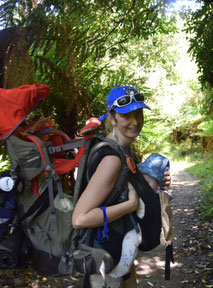 Perfect for sleeping and breast-feeding on the trail!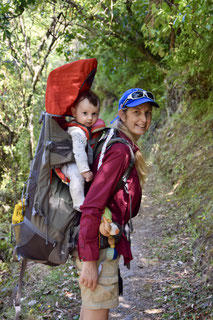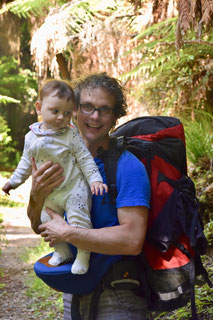 ---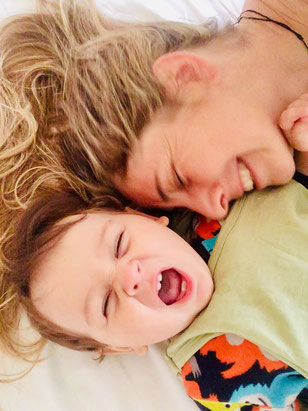 The first thing to think about, is that, in the outdoors, there won't be baby beds in the hut, shelter, tent. So you will have to do what mother nature designed you to do: sleep with your baby.
As I had my baby, I soon realised that in this part of the world, sleeping with your baby is often regarded as negative, even dangerous. It came natural to me, but I felt like I was doing something totally irresponsible and wrong. Luckily, I come across LA LECHE LEGUE and again, found a new normality in what I was doing.
Please check their website to get prepare to sleep with your baby!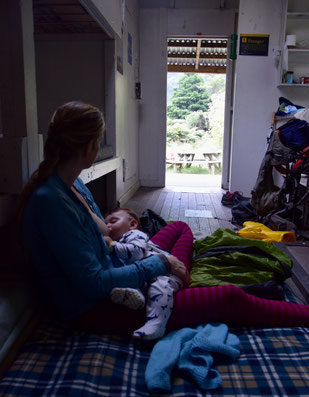 Look carefully at the environment where you will be sleeping to explore possibilities.
Can I put the mattress on the floor? Can I put 2 mattresses on the floor? Can I put the mattress against the wall? Is there anything I can use to stop my baby falling from the bed?
I keep my sleeping bag open all the way to my knees, and I use the velcro strap that i located at the end on the zip to fix the sleeping bag behind my neck. In this way I am sure the ending part of my sleeping bag won't cover the baby while I sleep.
I always bring tight sheets for the mattress, to be sure the surface my baby rest is clean!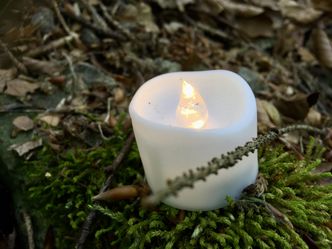 The worst nightmare is having to move, check on my baby, being in the total darkness, trying to find my headlight... For this reason I keep a soft light always on. I found that an plastic candle tea-light is the best option: it provides a dancing weak light that is cozy, not disturbing, and totally safe. It is small and light to pack, and the battery will definitely last few nights.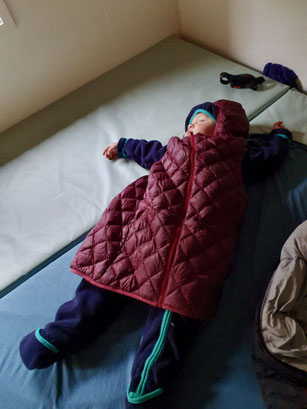 When spending the nights in the huts (high elevation, no heater) it can get cold at night. I usually put over the pyjama an extra fleece overall (Patagonia makes a duck-down-overall), a hat, and check his temperature constantly during the night.
My down-gilet also fitted my baby very well when he was a bit older, and make a perfect sleeping bag (also in this way you don't need to bring extra weight!). Make sure the gilet is not too loose, it is important that it cannot slip over the baby's mouth while sleeping!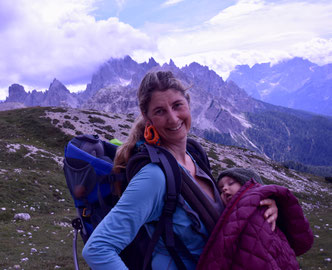 If you are planning to share a dormitory with other fellow hikers, and you are not sure your baby will be able to fall asleep with other people or extra noise, have a plan B... In my case, I always carry with me the front carrier, and when it is bed time I simply take my baby for a walk in the (silent) forest: soon enough, he is happily sound asleep, and I feel good about not having to "disturb" the fellow hikers that at night often just want to chat!
Sometimes, we also have with us baby headphones to cover noises, but we never had to use them in a hut.